Here are a couple of gold charts that should make you gold-bulls very happy.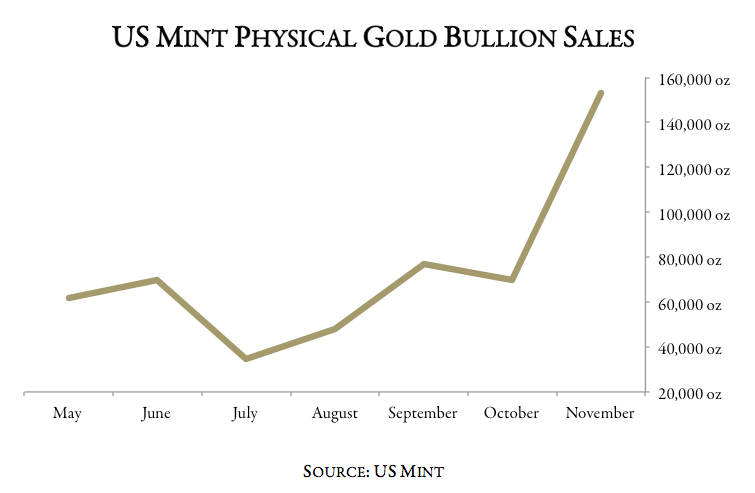 Here is how you avoid the awful mess WE here in the U.S. are in:
If you want to avoid problems like those cited below, buy from established dealers with a solid reputation.  Above all, be very careful of whom you do business with.  There are many unscrupulous scumbags out there, waiting to pray on your trust.   Buy physicals and take delivery or if you store your metals, be sure you are storing them in a segregated account, with third party audits.
As you know, we use BRINKS in Montreal and the metals are insured by Lloyds of London.  Brinks audits each account four times a year, and so does Miles Franklin Precious Metal Storage.  This is maximum safety and Andy Schectman, Andy Hoffman and myself all have our precious metals stored there.
Check out what Jim Sinclair had to say about the latest CFTC charges:
In The News Today – jsmineset.com

December 6, 2012, at 3:31 pm
by Jim Sinclair

Jim Sinclair's Commentary

This is the tip of the iceberg. There are going to be massive embarrassments in the fringe gold and silver business.

CFTC Charges Hunter Wise Commodities, Lloyds Commodities, C.D. Hopkins Financial, United States Capital Trust, Newbridge Alliance, Blackstone Metals Group, and their Principals in Multi-Million Dollar Fraudulent Precious Metals Scheme 


December 5, 2012

CFTC alleges that defendants conducted illegal, off-exchange commodity transactions, and deceived customers in connection with financed transactions in precious metals

Washington, DC – The U.S. Commodity Futures Trading Commission (CFTC) today announced that on December 5, 2012, it filed a civil injunctive enforcement action in the U.S. District Court for the Southern District of Florida against Hunter Wise Commodities, LLC; Hunter Wise Services, LLC; Hunter Wise Credit, LLC; Hunter Wise Trading, LLC; Lloyds Commodities, LLC; Lloyds Commodities Credit Company, LLC; Lloyds Services, LLC; C.D. Hopkins Financial, LLC; Hard Asset Lending Group, LLC; Blackstone Metals Group, LLC; Newbridge Alliance, Inc.; United States Capital Trust, LLC; Harold Edward Martin, Jr.; Fred Jager; James Burbage; Frank Gaudino; Baris Keser; Chadewick Hopkins; John King; and David A. Moore. The complaint charges these entities and individuals with fraudulently marketing illegal, off-exchange retail commodity contracts. The complaint alleges that Hunter Wise Commodities, the orchestrator of the fraud, has taken in at least $46 million in customer funds since July 2011.

According to the CFTC complaint, the defendants claim to sell physical metals, including gold, silver, platinum, palladium, and copper, to retail customers in retail commodity transactions. Under the defendants' retail commodity transactions investment contract, customers allegedly make a down payment on certain quantities of physical metals, usually 25 percent of the total purchase price. Defendants allegedly claim to arrange loans for the balance of the purchase price, and advise customers that their physical metals will be stored in a secure depository.
Often, I have written about the mathematical certainty of the demise of the dollar and the futility to even attempt to regain control of the debt by raising taxes and cutting expenses.  Below is a very clear explanation why this is so by Jim Sinclair:
The True Level And Effect Of The Real Debt – jsmineset.com