I could write a book on the CRIMINAL conflict of interest inherent in the rating agency "racket"; but in fact, have already done so numerous times.  In a nutshell, rating agencies are compensated by "clients" that hire them to issue reports…
Berkshire's Moody's Stake No Conflict, Buffett says
…and thus, why ANYONE would believe a word they write is beyond me.  All three of the major rating agencies – Standard & Poor's, Moody's, and Fitch – have been scandalized by overestimating stocks, bonds, and mortgages for the decades;
and yet, investors still watch their actions with baited breath….
Credit Rating Agencies Scandal: massaging numbers/ I.B.G.,Y.B.G.
Frankly, it's no different than watching the Federal Reserve; owned by the banks, appointed by the government – and possessing the WORLD'S WORST TRACK RECORD…
The subject of this topic is perhaps the greatest farce in financial markets history; which I'll get to shortly.  However, to better understand the present, let's first return to the past; i.e., a whopping 22 months ago – when Standard & Poor's downgraded the U.S. credit rating from AAA to AA+…
United States of America Long-Term Rating Lowered to 'AA+' due to Political Risks, Rising Debt Burden; Outlook Negative – August 5, 2011
At the time, the U.S. was mired in a weak economy; with no budget agreement, gaping deficits, and a 10-year Treasury yield (care of QE's one and two) of 2.4%.  The $14.2 trillion debt ceiling had just been breached – with no resolution in sight; and thus, S&P made the historic downgrade.  Below is the caveat they gave regarding the potential for further downgrades in the coming two years (i.e., by August 2013); assuming the U.S. government didn't "shape up" its finances…
We could lower the long-term rating to 'AA' within the next two years if we see that less reduction in spending than agreed to; higher interest rates; or new fiscal pressures during the period result in a higher general government debt trajectory than we currently assume in our base case.

–Standard and Poor's, August 5, 2011
"Shockingly," S&P's CEO was fired two weeks later, with no explanation given (gee, I wonder what happened)…
Tell the truth? Get fired. S&P CEO Sharma fired for calling the US on its BS – August 22, 2011
Moody's and Fitch also threatened U.S. rating downgrades; but strangely, went silent after the Sharma firing…
Moody's confirms US AAA Rating, assigns negative outlook – August 2, 2011
Now let's go back to S&P's August 2011 caveat; staring with the worry about "less spending than agreed to."  Per my "CLIFF DIVE" topic, the Budget Control Act of 2011 was hastily signed to raise the debt ceiling from $14.1 trillion to $16.3 trillion; on the condition of roughly $1.5 trillion of budget cuts (spread over a decade, back-end loaded of course) being generated by a bi-partisan "Super Committee" by December 23, 2011.  As it turns out, not a single penny was cut from the budget; and thus, the annual $150 billion of "sequestered" cuts was scheduled for January 2, 2013 (conveniently, after the election); which came to be morbidly known as the "Fiscal Cliff."
The Fiscal Cliff: America's impending Budgetary Doom and what to do about it
Subsequently, in one of the only recorded instances of "bi-partisanship" – not surprisingly, doing what's "WORST FOR AMERICA, BUT BEST FOR PRECIOUS METALS" – Congress made a "fiscal cliff deal" on New Year's Eve; putting off the "sequester" until March 1st, and whittling the planned $150 billion of annual spending cuts to just $87 billion.  Better yet, they "suspended" the debt ceiling until May 19th; as I write, at roughly $16.8 trillion, or $2.7 TRILLION higher than at the time of the S&P downgrade…
…where it will again be debated when last second "emergency measures" (such as stealing from government pension accounts) run out at summer's end; introducing the distinct possibility of a "DEBT CEILING TO INFINITY"…
U.S. Treasury Takes Steps to Avoid Breaching Debt Ceiling – May 20, 2013
In September 2012, independent ratings agency Egan-Jones downgraded the U.S. for a second time…
Egan-Jones downgrades U.S. rating on QE3 move – September 14, 2012
…and what a shock; was sued by the SEC two weeks later…
SEC sues the One Rating Firm Not on Wall Street's Take – September 30, 2012
…while after nearly two years of silence, Fitch felt paid "lip service" to the issue; but since they took no action, were left alone by the government…
Fitch Warns It May Downgrade U.S. Over Debt Standoff – January 15, 2013
Conversely, S&P's August 2011 caveat put it on a timeline to make further decisions by August 2013; and thus, the government "pre-empted" such acts by suing S&P…
U.S. sues S&P over Ratings – February 5, 2013
Moody's then followed Fitch's example by ambiguously announcing it was "closely watching" the situation; also left alone for taking no actions…
U.S. faces Downgrade in 2013 Without Budget Deal, Moody's Warns – May 20, 2013
…which brings us to today; in a world where ALL of S&P's August 2011 caveat has been violated.  For one, not only has there been no reduction in spending over the past two years, but it is dramatically rising…
Regarding new "fiscal pressures," Congress has still not agreed on a budget – after four years…
No budget deal in sight as special session enters final days
…and the "government debt trajectory" has gone parabolic…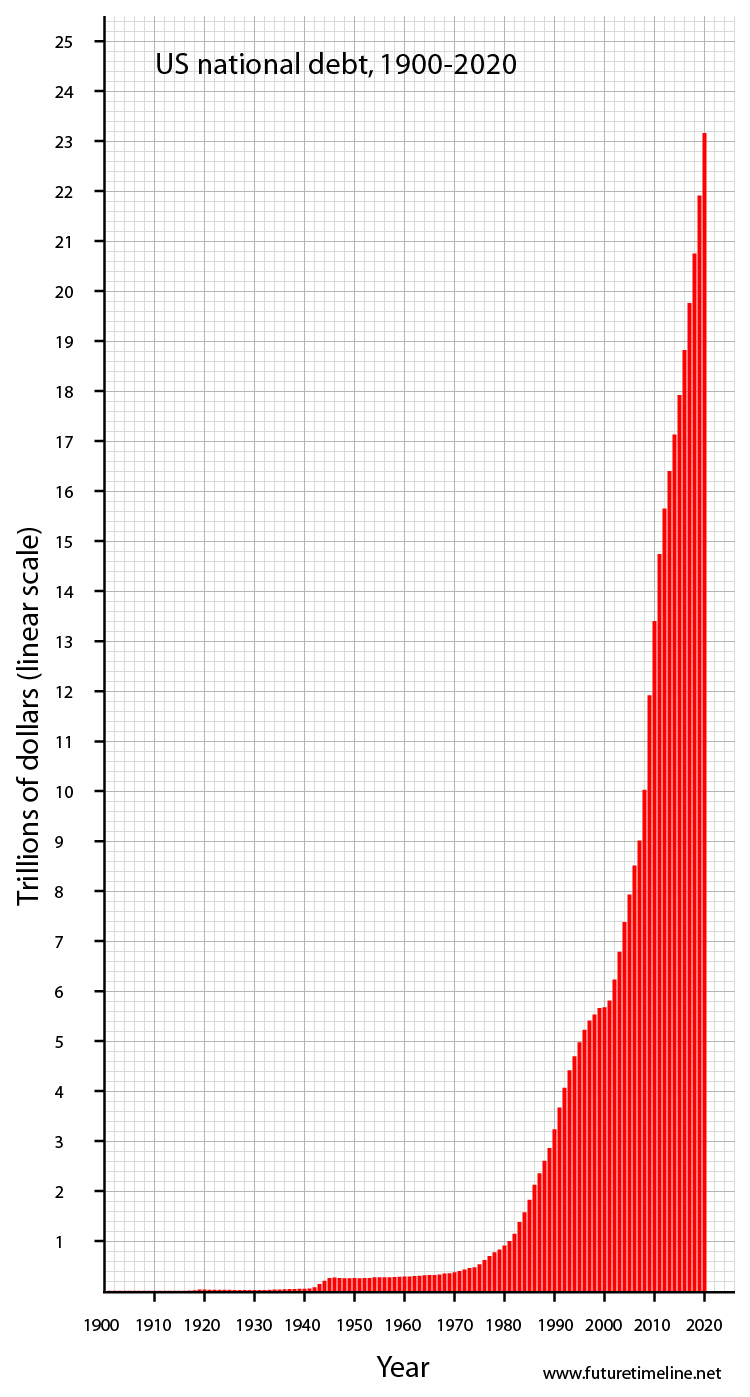 Last but not least, interest rates did modestly decline from August 2011 until mid-2012.  However, the key 10-year Treasury yield has surged back to 2.21%; i.e., its highest level in 18 months, and just below the pre-downgrade level…
…in other words, with a significant upside bias…
10Y TIPS Yield Above 0%; Highest In 19 Months
…which, by the way, has already eliminated ALL of the supposed "sequestration" budget cuts…
Thus, with ALL such "caveats" having come true – amidst a nation in REAL recession; at all-time high REAL inflation, employment, and entitlements; one would think a non-biased S&P would be getting ready to pull the trigger on further downgrades…
American Households on Food Stamps Climb to New Record
…which is why S&P's announcement this morning that it is upgrading its U.S. outlook from "negative" to "stable" is so comical…
S&P upgrades US Outlook from Negative to Stable on "Receding Fiscal Risks" – June 10, 2013
…and why shortly – if not already – ratings agencies will be completely and utterly ignored…
S&P upgrades US credit outlook, proves continuing irrelevance
PROTECT YOURSELF, and do it NOW!
Call Miles Franklin at 800-822-8080, and talk to one of our brokers.  Through industry-leading customer service and competitive pricing, we aim to EARN your business.